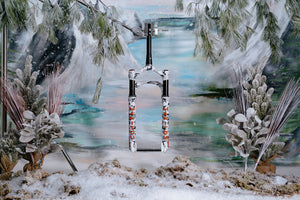 LIMITED TO 300!
The MASTODON PRO LE will be produced
in a one time, 300-unit production run. No
more will be produced and, once these are
gone, they are gone.
"The Mastodon has made my fatbike a great all around choice no matter the ride or season. The performance and stiffness is exactly what I was looking for when I started riding them. I'm happy to be riding the newest and best looking version! "
- Pat Smage
Dorado Air
The Manitou Dorado Air spring system contains a unique balancing valve that equalizes the positive and negative air chambers during the air fill process. This gives the spring rate a consistent feel without any flat or dead spots in the stroke, along with giving riders of different weights the same initial stroke feel.
MC2
The Mastodon Pro features our fully sealed cartridge MC2 Damper technology that provides an independent HSC circuit providing an adjustable high-speed blow off point combined with a LSC circuit providing adjustment for chassis control and small bump sensitivity. This cartridge utilizes a bladder with a blow off valve to prevent rupture under high pressures and keep your damping controlled and consistent no matter the terrain.
15 x 150mm Hexlock SL Axle
The trusted Manitou Reverse Arch requires less material for maximum torsional stiffness making for a lighter yet better performing structure. Its stiffness is even further improved when combined with the Manitou Hexlock SL thru axle.
Awesome Fork - VERY Smooth
I installed this on my Fezzari Kings Peak using 27.5 x 4.5 Terrene Cake Eaters and so far I'm loving it. I splurged on the LE just because I thought it would look nice with my white and orange frame. Plenty of room between the crown and the tire. It has really tamed the bounciness of the front end on those rocky sections with no snow. The only minor negative I would give is that the two high and low speed compression dials on the top of the fork I received are very stiff to turn (especially the black dial) and the edges of the dials are a little bit sharp (probably enhanced by how stiff they are to turn) but, now that I have them both set up no issues. Very happy with my purchase so far. Thanks.