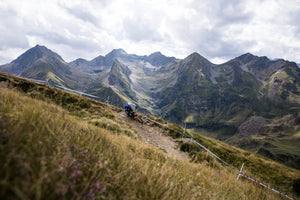 Battling Elements and Making Their Mark in Loudenvielle-Peyragudee
The Pivot Factory Race Team descended upon Loudenvielle-Peyragudee, France, the week was a rollercoaster ride of enduro and downhill racing. The week commenced with enduro racing, marked by schedule changes driven by weather concerns. To avoid the impending rain, racing was brought forward a day to Friday, setting the stage for an exhilarating mix of stages that ranged from open, high-speed sections to tight, tree-covered rooty and rocky trails, known for their unforgiving tightness.

Eddie Masters kicked off stage one with enthusiasm, however a third of the way down, disaster struck as he clipped a bank with his handlebar in a corner, resulting in a big crash. Although he initially attempted to soldier on, he wisely pulled out after the third stage and was promptly transported to the hospital with a fractured hand.

Matthew Walker grappled with the tight and technical tracks that didn't quite align with his riding style. Despite the hurdles he managed to deliver consistent times, ultimately securing an 11th-place finish.

Morgane Charre, a consistent standout, once again showcased her exceptional skills and talent on the track. She blazed through stage 5 posting the fastest time, ultimately securing an impressive 2nd place finish overall.

The downhill course in Loudenvielle lived up to its reputation. An open, fast-flowing top section gave way to a challenging lower half, riddled with rooty, rocky step chutes. This terrain favoured the more technical riders allowing them to shine. Unfortunately weather predictions disrupted the schedule once more, with the track becoming wet during the race posing a challenge for some juniors.

In a controversial decision the event organisers canceled the junior finals, due to poor weather conditions. This left both Ryan Griffith and Dane Jewett unable to showcase their skills and had to sit this race out, a frustrating turn of events for these promising young riders.

Jake Jewett had been a promising contender leading up to qualifying. However a significant crash during practice left him battered and bruised. Despite his determination, he couldn't recapture his speed in time for qualifying.

Jenna Hastings, a rising star, carved her name into the elite women's field. Not only did she qualify, but she also secured an impressive 6th place in the semi-finals. A few small mistakes during her finals run pushed her to a 10th-place finish, not her ideal outcome but still an incredible achievement.

Bernard Kerr, an early standout in practice, displayed remarkable talent and speed on the track. As the finals beckoned, there was no denying his potential to claim the top spot. However the track conditions during the finals proved unpredictable, Bernard lost control of the front in a steep corner going down in third split, ending his dreams of victory. Nonetheless his split times were a testament to his podium-worthy pace, posting the second fastest time in the 4th split and claiming 13th place on the day.

As the Pivot Factory Race Team packs their gear and sets their sights on the 6th round of the downhill World Cup in Les Gets, France, they do so with high hopes and unwavering determination. The trials and tribulations faced in Loudenvielle-Peyragudee have only stoked their desire to conquer the next challenge that awaits them on the world stage.