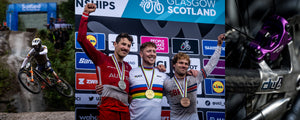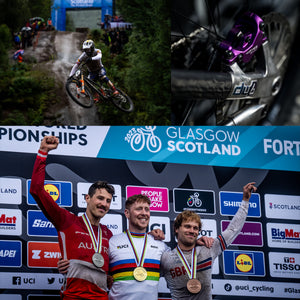 WORLD CHAMPS WINNING BRAKES
DEFINING PERFORMANCE
While speed might be the most alluring part of performance, absolute control is what permits you to push limits further. The Dominion range of brakes was introduced to create a braking solution that not only creates faster and more confident riders but that represents a new standard for 360-degree quality product design. . Build them onto your bike and see how not only your ride changes but how your riding improves with it.
SHOP THE ENTIRE DOMINION FAMILY
"The Dominion brake is a winner in every sense...If you are in search of a good brake, start with this one."
"Wow! Do yourself a favour and give them a try."
"Hayes took their time when designing and testing the Dominion A4 and it shows"
"The lever feel is outstanding, power is abundant, and they've been completely reliable and consistent throughout six months of hard use."
Such a successful braking solution was born from perhaps one of the most comprehensive and in-depth testing regimes ever employed for mountain bike brakes. The wealth of knowledge from such profound research and data acquisition met with the collective engineering know-how from the Hayes group who, in addition to an extremely specialized MTB development team, boasts teams dedicated to the development of solutions for motorsports, industrial and defense sectors.
defining performance, a task a great deal more complicated than mere powerful braking.
Simple raw power is important but less so than fantastic modulation. The data shows that riders do a great deal more scrubbing than actual stopping which meant finding the perfect recipe between absolute power and control. While all the secrets to such performance can't be revealed, several technologies incorporated to establish HAYES PERFORMANCE POWER bear mentioning.

POWER
Immediate Engagement
When an athlete needs brakes, he or she needs them immediately and the individually calibrated master cylinder reservoir cutoff provides for instant engagement via immediate fluid pressurization.

The STABLE RATE LINKAGE geometry of the brake lever contributes a great deal to the DOMINION performance as it confers great power that requires a very low force application to power applied ratio.

To ensure that braking force never degrades despite even the strongest force applied to the lever Kevlar reinforced hose resists expansion and increases overall power and efficiency

The KingPin design is a structural pad retention bolt that reinforces the caliper, and thus increases power, while keeping the pads in place.
PERFORMANCE
Confidence Inspiring Performance
Dominion level performance derives from not only raw stopping power but through creating a system that inspires greater confidence and an overall better experience in the saddle .

Most solutions from other brands use bushings to facilitate the movement of the lever, the Hayes Dominion uses sealed bearings to require as little force as possible to actuate the brake, offering best-in-class, low friction tactile feedback to the user.

The piston glide ring, a technology first used in suspension forks, contributes to even smoother actuation.

CUSTOMIZATION 360
Custom To You
Power, modulation, feedback and lever feel all improve the rider experience and inspire confidence, but the brake must also conform to riders' physical needs and wants to feel like a perfect extension of the athlete.

By incorporating a patented tool-free reach adjustment the engineers at Hayes were able to deliver one single solution that can easily be adapted to every rider's needs.

Although the Dominion is tuned at the factory for immediate pad engagement, through the use of a tool the system can be adjusted to add the desired amount of dead stroke (how much action is required on the lever to engage pads toward the rotors)
CONSISTENCY
Performance technology and customization options are great but ultimately not worth much if you can't guarantee consistency and flawless functionality.

The Dominion incorporates an aluminum piston, as aluminum offers a great deal of consistency and functions smoothly across operating temperatures.

DOT 5.1: the decision to use DOT 5.1 was made to ensure consistency as it is viscosity-stable across operating temperature range in addition to having the highest wet boiling point of all bicycle brake fluid options available on the market. DOT 5.1 is also perhaps the most regulated brake fluid on the planet, found on every corner of the globe and is consistent from region to region and brand to brand. In other words, no matter where in the world you find yourself, no matter what brand of fluid you find, your performance is guaranteed as no variables are present amongst DOT 5.1 offerings.

Nothing says consistency like a Lifetime Leakproof Warranty and Hayes are proud to offer one as a testament to their confidence in such a well-engineered product.
CROSS OVER TECH
The double bleed port, Two Stroke, on the caliper allows for caliper only bleeding and is paramount in guaranteeing a highly functional system, free from any impurities or air.

This bleed over (no pun intended) from the powersports sector highlights the competitive advantage that having a large-scale research and development department that operates on diverse applications.
CALIPER/PAD/ROTOR INTERFACE
guaranteed perfect interface between caliper/pad and rotor

Unique to the cycling industry, the Dominion includes two adjustment grub bolts to allow finite adjustment of the caliper. This PerFit technology makes the mechanics job a great deal easier but also ensures great alignment and, consequentially, unrivaled precision functionality.