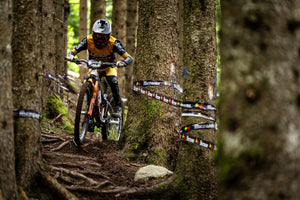 Pivot Factory Race Team Shines in Châtel, France
The picturesque alpine town of Châtel, nestled in the heart of the French Alps played host to the grand finale of the Enduro World Cup, marking the seventh and final race of the season. This charming destination is renowned for its breathtaking mountain scenery, challenging trails, and a vibrant mountain biking community. Despite rain showers throughout the week the tracks dried out just in time for race day, setting the stage for an action-packed showdown on its technical and demanding trails.

During a brief hiatus from downhill racing, the Jewett brothers decided to try their hand at the Enduro World Cup. Racing in the under-21 category, Dane Jewett delivered an impressive performance securing the 14th position. Not to be outdone, Jacob Jewett made his mark by finishing an outstanding 5th in his first-ever Enduro World Cup appearance.

Matthew Walker, a seasoned rider in the elite field, faced some hurdles during the race, including a few costly mistakes. However he remained resolute and chipped away at the challenges throughout the day. His consistent performance allowed him to secure 14th place on the day, a testament to his tenacity. Furthermore, Walker's season-long efforts paid off as he clinched an impressive 9th place in the overall standings, marking a significant milestone in his career.

The spotlight shone on Morgane Charre as she battled throughout the day for the number 1 spot. Entering the last stage with a mere 2-second lead, she knew that every pedal stroke counted. In an amazing display of skill and determination, Charre delivered a flawless final stage, extending her lead by another 4 seconds. Her performance left no doubt about her status as the fastest elite women's rider on the day. Not only did she seize victory in the final race of the season, but she also claimed an astonishing second-place finish in the overall rankings, securing her position as the world's number 2 enduro rider.

The Pivot Factory Race Team, united in their pursuit of excellence, celebrated a remarkable achievement by finishing 3rd in the Enduro Team Overall standings. This accomplishment underscores the team's dedication, teamwork, and competitive spirit throughout the season.

As they pack up in Châtel and set their sights across the Atlantic, the team carries the momentum of a successful enduro season and the determination to continue making waves in the world of mountain biking. Their next challenge awaits with the last two races of the downhill World Cup circuit in North America.