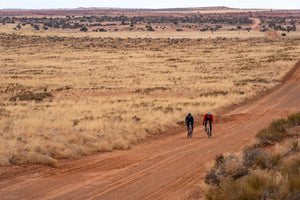 For your off-pavement experience, the Reynolds and SUNringlé gravel wheel collections are up to the challenge. The steepest gravel climbs, the roughest descents and technical singletracks; this is where our gravel wheels shine. Our collection of gravel wheels features the most comprehensive collection available to the adventure gravel rider – complimenting the existing Reynolds ATR wheels with aerodynamic technology; the gravel collection now includes the NEW Reynolds G700 and G650 and SUNringlé DÜROC G30 wheels.
Reynolds G700 / G650
Traction and comfort on any terrain, Reynolds G700 and G650 carbon wheels, will handle it all. Featuring a 25mm wide hookless and tubeless channel that matches perfectly with modern bigger gravel tires in both 700c and 650b sizes. Assembled around the new Ringlé SRX gravel hub the G700 and G650 floats over gravel, roots and even pavement if you must.

Lightweight and efficient power delivery keep your legs fresh due to Reynolds' unique asymmetric rim profile, while benchmark durability and enhanced compliance improves traction. The wide TSS channel is perfect for wide tires and low pressures eliminating sore fatigued hands and keeps your rear happy in the saddle.
SUNringlé DÜROC G30 EXPERT
Looking for your next off the pavement adventure? With proven reliable performance in all conditions, the SUNringlé DÜROC G30 EXPERT aluminum, gravel wheels will help you conquer the trail. Whether you're grinding a climb or exploring the unknown, SUNringlé wheels have you covered. Rider-driven design means SUNringlé gravel wheels and rims are built for your ride.

Available in 700c or 650b, the wider rim profile used with higher volume tires, combined with the ability to run lower PSI for increased traction, will improve versatility, durability, and performance. The STR tubeless ready channel gives you easy, trouble-free tubeless setup and reliable burp free performance at low PSI. Our new Ringlé SRX road/gravel hub is designed to perform in all conditions so you can get the most out of your adventure and - your ride.
Reynolds ATR
Don't let your ride stop because the pavement ends. The Reynolds ATR wheels feature a 23mm wide channel to fit bigger all-terrain tires. You can explore back roads with great traction and comfort thanks to the smooth ride quality all Reynolds wheels are known for. No matter your budget, wheels will still be the most important upgrade you make to your bike.