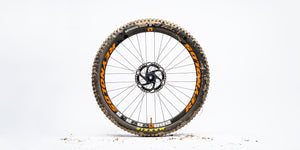 ONE SET.
ONE SEASON.
TEN PODIUMS.
How much abuse do you think a wheelset endures during a multi-stage Enduro World Series (EWS) event? How about an entire EWS race season? For the top riders, it's difficult to quantify but it's safe to say it's a LOT.

Thinking about it, you'd expect EWS racers who are pushing hard to go through a few sets of wheels during a season along with a slew of other parts. But Pivot Factory Team riders Morgane Charre and Matt Walker both rode one set of Reynolds Blacklabel Enduro 289 wheels for an entire season – every race, every stage. That's 9 race weekends and 42 stages on one set of wheels, not to mention all the practice!

They weren't out there just going through the motions either, racing to 10 podium finishes combined. Morgane stood on the podium 8 times while Matt did it 2 times, finishing 2nd and 19th overall, respectively, in a stacked field – and the team finished 3rd overall!

It is a great statement about the quality and durability of Reynold's wheels. The Blacklabel Enduro 289 wheels feature high-end Industry Nine hubs, Sapim CX-Ray spokes, hookless MR5 carbon fiber rims, and comes with our Limited Lifetime Warranty. The MR5 carbon technology uses proprietary construction and an asymmetric rim profile that provides a stronger wheel through more even spoke tension (also used in the new Blacklabel Trail Pro and Expert series wheels). It's not just a wheel, it's a system that's designed and built together to give riders an amazing and durable ride – just ask Morgane and Matt.

"they've been amazing over the full season. I was riding them in varied conditions and they played a huge role in helping me reach EWS podiums regularly. They've definitely seen a few jump cases and big rocks but I never had any issues; my mechanic would tell you they've been making his life easier at the races"
- Morgane Charre
Reynolds Wheels Featuring Podium Proven MR5 Technology