The Science of Smooth
At Manitou we don't follow trends we question them. During our R&D process we do not look towards what we have – we look at what will be needed in the future. From damping to air spring and chassis – each of our technologies are carefully design to meet the requirements of its intended use category. All Manitou technologies that are being utilized in our products today are the result of more than 35years of research & development experience creating high performance suspension product.
Hollow Crown
Manitou's patented hollow crown design optimizes the crown stiffness for the fork application while maintaining an overall weight reduction compared to other designs.
Reverse Arch
Manitou engineers placed the arch on the back of the fork further away from the axle. The lower tire clearance behind the fork allows for a shorter arch which yields a 13% increased stiffness compared to a forward arch fork of the equivalent weight. 
15mm hexlock sl
The tooled version of the Hexlock axle combines stiffness and ease of use in the lightest weight package.
20MM HEXLOCK THRU AXLE
Our patented hex axle locks the lower legs in place, eliminating rotation around the axle. This provides unsurpassed stiffness in a burly, no-gimmick 20mm axle system.
TSR
Trail Side Relief (TSR) allows the rider to "bleed" built up casting pressure to ensure the highest performance and lowest break away force for the best small bump feel.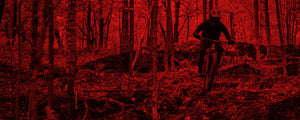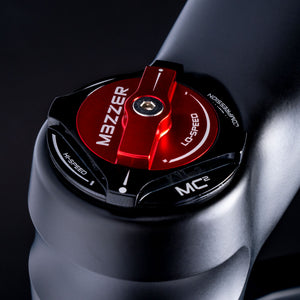 MC2 Sealed
MC2  sealed cartridge Dampers use a bladder for a light weight solution to eliminate cavitation during demanding riding. To handle fluid expansion the cartridge features a blow off valve to ensure a long service life and consistent performance.

MC2 technology provides an independent HSC circuit providing an adjustable high-speed blow off point combined with a LSC circuit providing adjustment for chassis control and small bump sensitivity. HBO provide bottom out support on all MC2 dampers.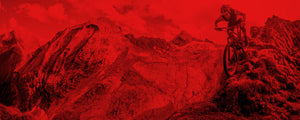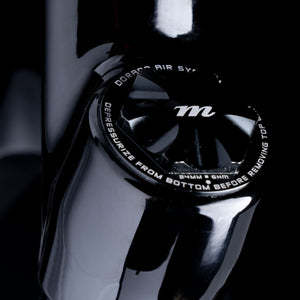 DORADO AND EXPERT AIR
The Manitou Dorado Air and Expert Air spring systems contain a unique balancing valve that equalizes the positive and negative air chambers during the air fill process. This gives the spring rate a consistent feel without any flat or dead spots in the stroke, along with giving riders of different weights the same initial stroke feel. Dorado Air is our lightest weight air spring technology, while Expert Air has identical performance in a more cost effective package.