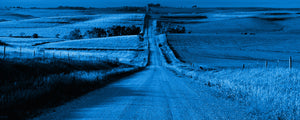 No two riders are exactly the same. Some are motivated by competition, some seek adventure, and others are out there strictly for smiles and good times. We get that, and that's why we have dedicated our 70 years of carbon fiber manufacturing experience to develop a wide variety of high-performing carbon wheels for road, mountain, gravel, and ebikes to suit every type of rider. Every wheel that leaves our facility has been designed and tested by our dedicated team of engineers in Utah who spend just as much time on their bikes as they do in the lab. As cyclists we know that the only wheels worth buying are the wheels that make you faster, won't leave you stranded, and look good doing it. No matter what moves you to toss a leg over your bike of choice, we've got you covered.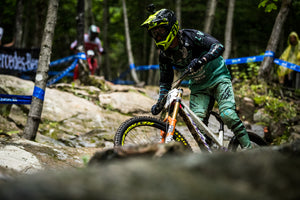 FINDING A NEED
Every product we create is born from an idea we've had while in the saddle. As riders, we are constantly searching for ways to ride faster, longer, and harder. Luckily, we possess a creative team of experts who possess the knowledge and capabilities to make these ideas a reality. But the process from idea generation to production is no small feat. This journey involves many steps and checkpoints along the way before that spark of creativity finds itself rolling under the power of our customer's legs. ​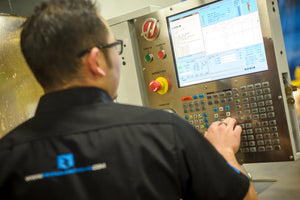 Engineer
Our crack team of engineers are relentless with their quest to build the perfect wheel for the desired application. Here at Reynolds, there is no such thing as a 'one composite fits all' type of approach. We identify the crucial stress zones for each type of carbon rim and wheel family according to their specific needs for their application and engineer from there. What is consistent amongst all our wheel builds is our attention to what we call, "The Reynolds Triangle", which refers to our focus on three key aspects of every design. ​
Premium Materials
Not all composites are created equally. Our strong relationship with our material suppliers gives us access to a wide variety of composite materials each with their own attributes and features. This allows us to test a wide spectrum of possible layups and find the perfect match for the specific demands of a particular products design.

Unique Rim Profiles
Combined with the proper materials, a rims profile is what separates a good wheel from a great wheel. Every Reynolds rim is specifically designed to deliver optimum aerodynamic performance (road), durability, and ride quality for their intended use. Utilizing wind tunnels, computational fluid dynamics (CFD), and thorough structural testing, each rim profile we produce goes through countless iterations in the lab and on the road or trail until it meets our standards.
ENGINEERED WHEEL SYSTEMS
While rim designs are crucial to the success of any wheel, they alone do not complete the puzzle. Hubs, spokes, and nipples are all extremely important factors in delivering the exact feel and performance we believe our customers deserve. Wheels are systems and just as each of our rims are unique according to their intended use, we pursue the same approach with the completion of a wheel. We carefully select premium hubs, spokes, and nipples in interaction with the rim to build a system that delivers exceptional ride quality and durability.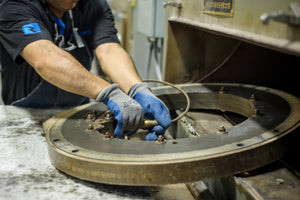 Prototype
Every new idea begins its life outside of the virtual world as a hand-crafted prototype produced within our Composites Development Center in Utah, USA. To create a prototype, we must first CNC the molds for the rim shape. Then we begin the hand layup process applying layer after layer of carbon fiber and epoxy until it is ready to cure in the oven. Once the timer is done, the freshly cured rim is removed from the oven and mold and thoroughly inspected before it is passed to our master wheel builders to assemble and get out to our testing team.​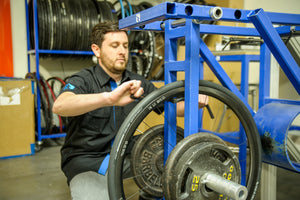 Test
There is no such thing as "good enough" when it comes to validating our product's performance. Every wheel we develop goes through a rigorous and brutal testing procedure before hitting the sales floor. Between impact machines, lateral load tests, wind tunnels, and real-world beat downs our wheels are put through hell and back to guarantee reliability for the end-user. We are so confident in our testing process and the resulting reliability that we offer a lifetime warranty on every wheel we produce.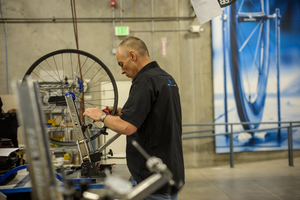 Produce
Once we have reached completion of our testing process, the product is ready to send to our production facilities. Every single wheel that leaves our assembly line must meet both industry ISO/ETRO standards and our own strict tolerances before being packed up and delivered to your door. This ensures that every wheel marked with the Reynolds name is an accurate representation of the care, time, and effort that went into its production. ​
TECHNOLOGY
To learn more about the specific technologies found in each of our wheels click here to look at our technology page.
Every Reynolds wheel is protected by our Lifetime Warranty. Should you encounter an issue with your Reynolds wheels while out on the road or trail, you can rest assured that your investment is protected. Click here to read our full warranty policy.