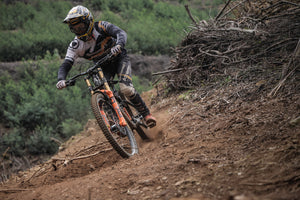 Atherton Racing Joins Forces With Hayes
With a long history of conferring the necessary control to make even the most talented athletes faster, Hayes is extremely excited to supply World Cup downhill's premier team and athletes, in addition to mountain biking's most prestigious family, with the unparalleled performance, reliability and modularity of our Dominion brakes. Slowing the Atherton team down in an effort to make them faster on its face sounds like a strange objective but one that both Hayes and the entire Atherton organization are convinced will prove to be a winning strategy.
The team will primarily use the Dominion A4 brakes whose design and construction have made them perhaps mountain biking's best kept secret. Well thought out solutions such as a motorsports-inspired Two-Stroke dual port bleed system, Crosshair caliper alignment, a Kevlar rienforced hose, King Pin Pad Retention as well as the proprietary QuickBite2 engagement system make for not only unparalleled performance but also a user friendly and amazingly reliable system. Having such technology atop the Atherton Racing crew will undoubtedly shed light on this fantastic secret and show the legions of riders looking for more in their time in the saddle the braking solution for them.