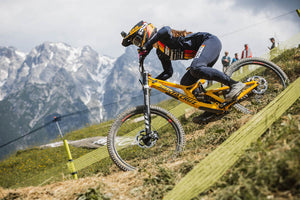 Pinkbike Racing's Aimi Kenyon's 2023 Season
Pinkbike Racing was launched as a talent incubator for young riders based on their race pace and work ethic. The team set out to help juniors and riders on the bubble that need support to break through and build a foundation for sustainable racing careers. While Pinkbike Racing has done a great deal to lay out a path for young talent to break into the sport at its highest level, Manitou has put forth its best effort to ensure the trail ahead of these athletes is as smooth as possible.

The second season of the behind the scenes video series that highlights the experiences in a 360 degree manner of World Cup racing, through the viewpoint of Pinkbike Racing is set to go live. Check out the series and share in the struggles and successes of the Pinkbike Racing teams World Cup endeavor… made smoother by Manitou.