---
"Gravity riders of all stripes will be stoked to squeeze these brakes."
--brian gerow, singletracks magazine, usa
"With power to rival the best, superb build quality and class-leading feel, they are a highly recommended purchase for riders looking for a balanced brake with lots of sensitivity."
--trev worset, enduro magazine, germany
---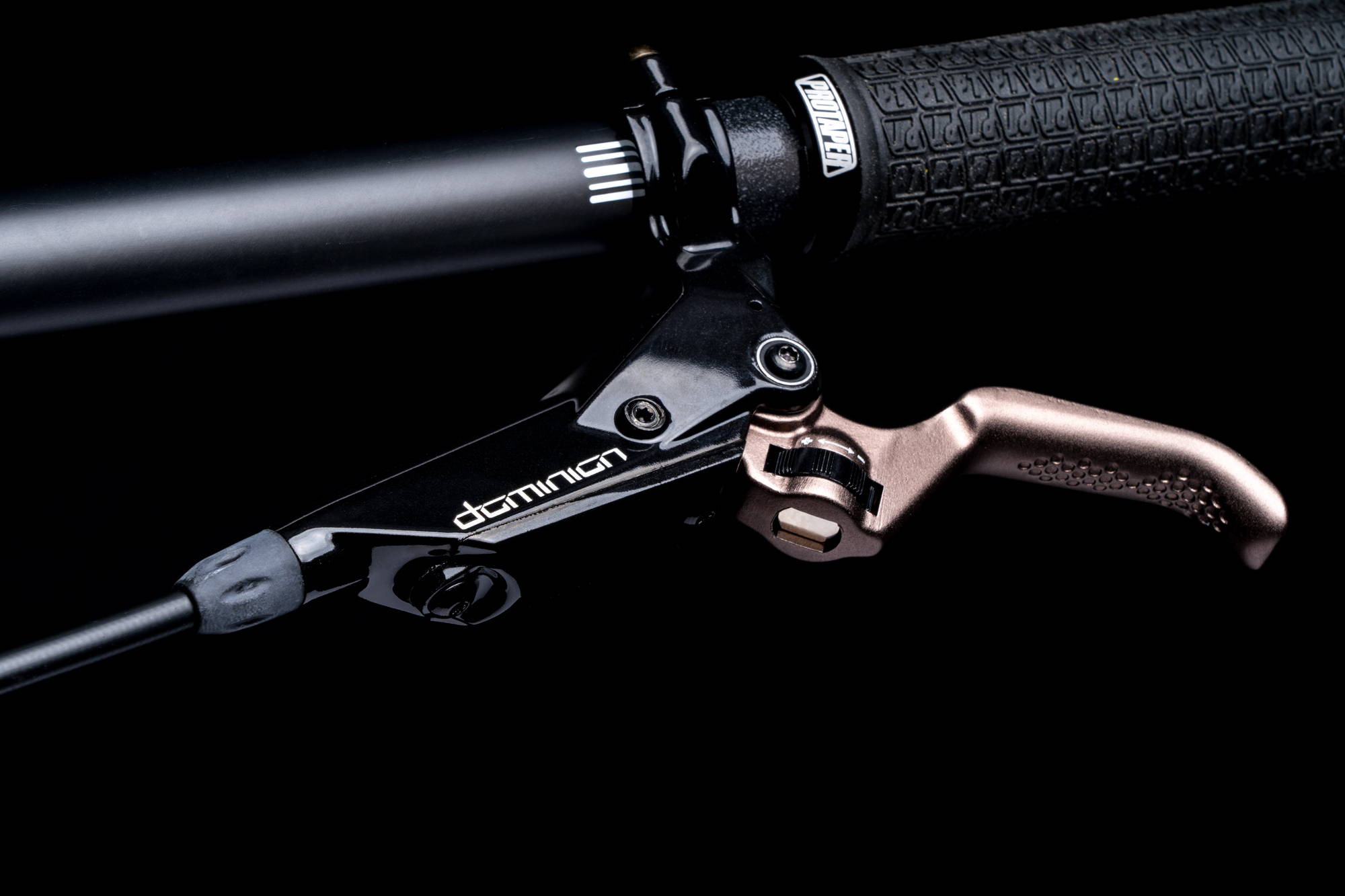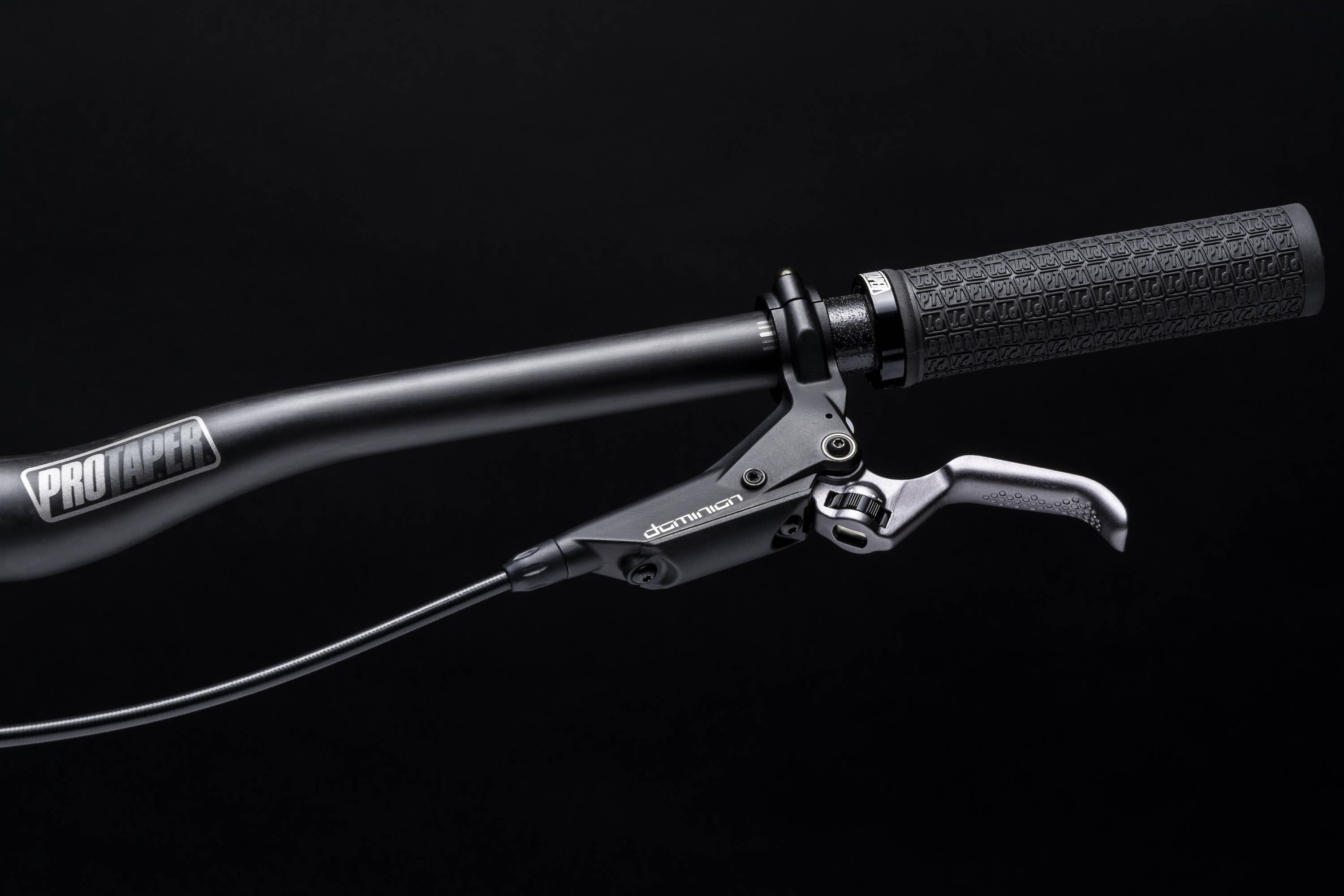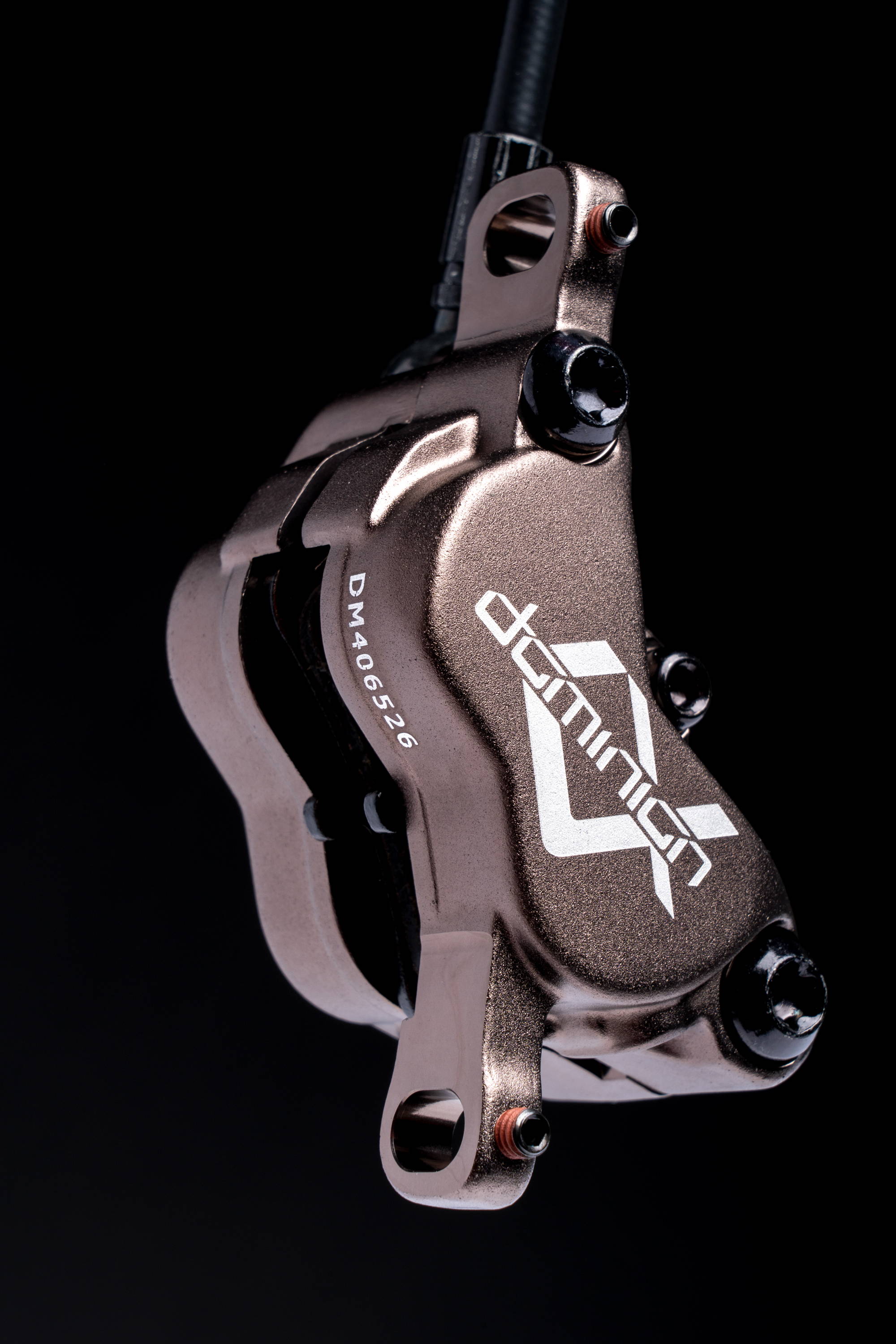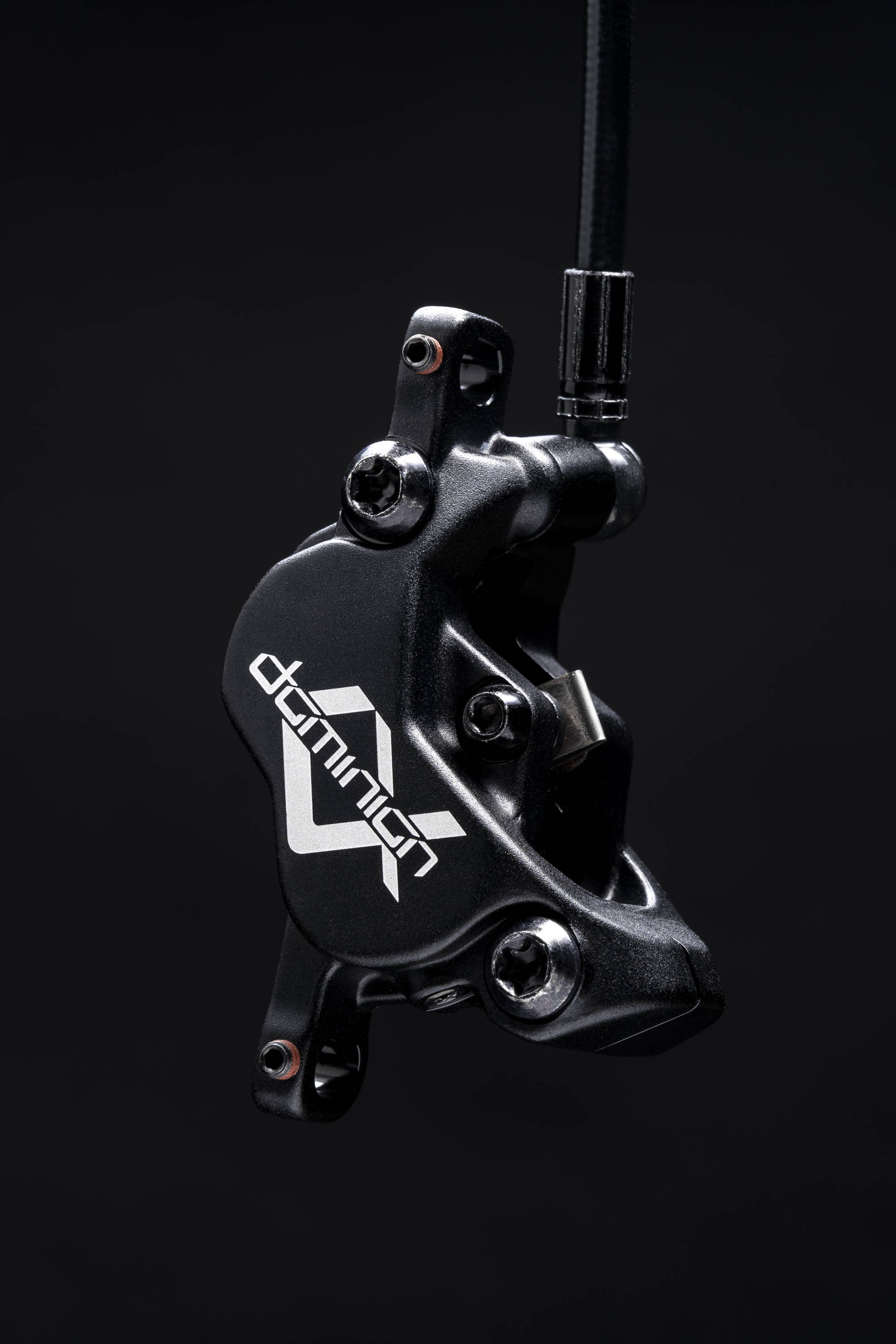 ---
Low Input - High Fidelity (LoFi)
---
Low effort system with predictable, progressive ramp up and a crisp bite point.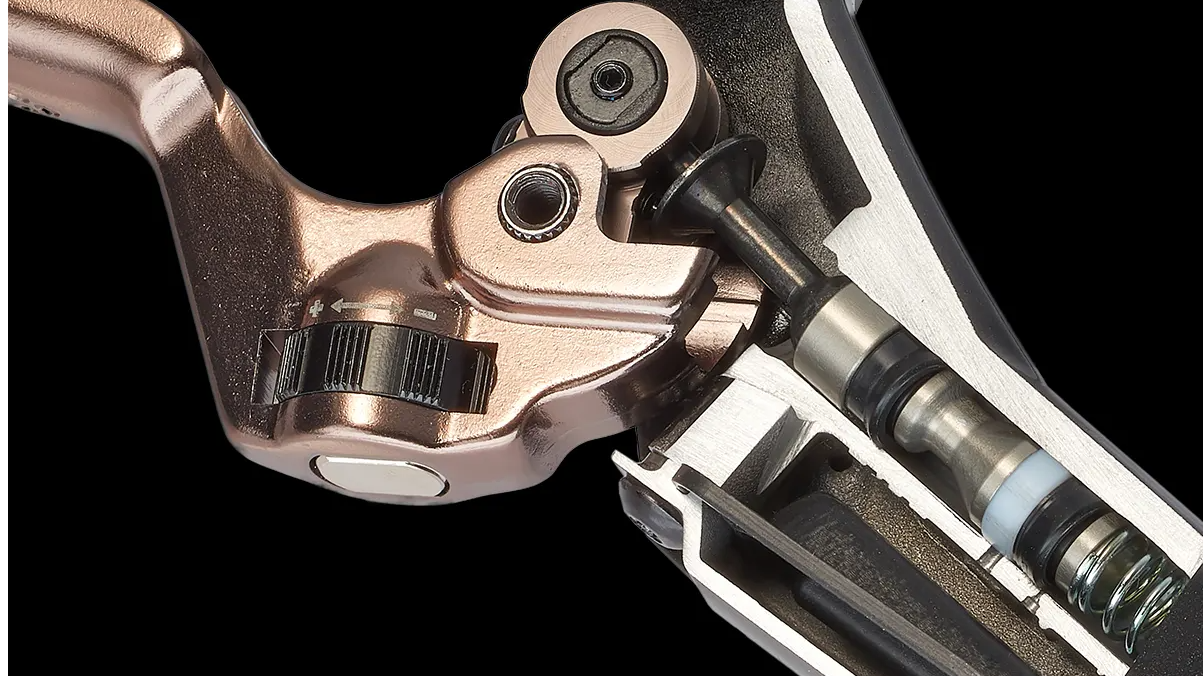 ---
Reduced Friction - A featherlight lever feel is acheived through a combination of an added glide ring on the piston and sealed ball bearings at the lever blade pivot
SRL - Our Stable Rate Link delivers a consistent lever ratio regardless of reach
Precise Engagement - Each Dominion is factory set to have the lowest dead stroke possible and a crisp bite point.
Built to last - Metal pistons are used to ensure that no matter the terrain or temperature your brake will continue to perform as it did on the first ride
Adjustable Reach - Adjust your lever reach with ease while on the trail thanks to an intuive adjustment knob design
Modal Resonance Cancellation (MRC)
---
FEA-optimized modal shapes of D-Series rotors are intentionally designed to oppose those of Semi-Met T106 and Sintered T100 pads, canceling out noise and vibration.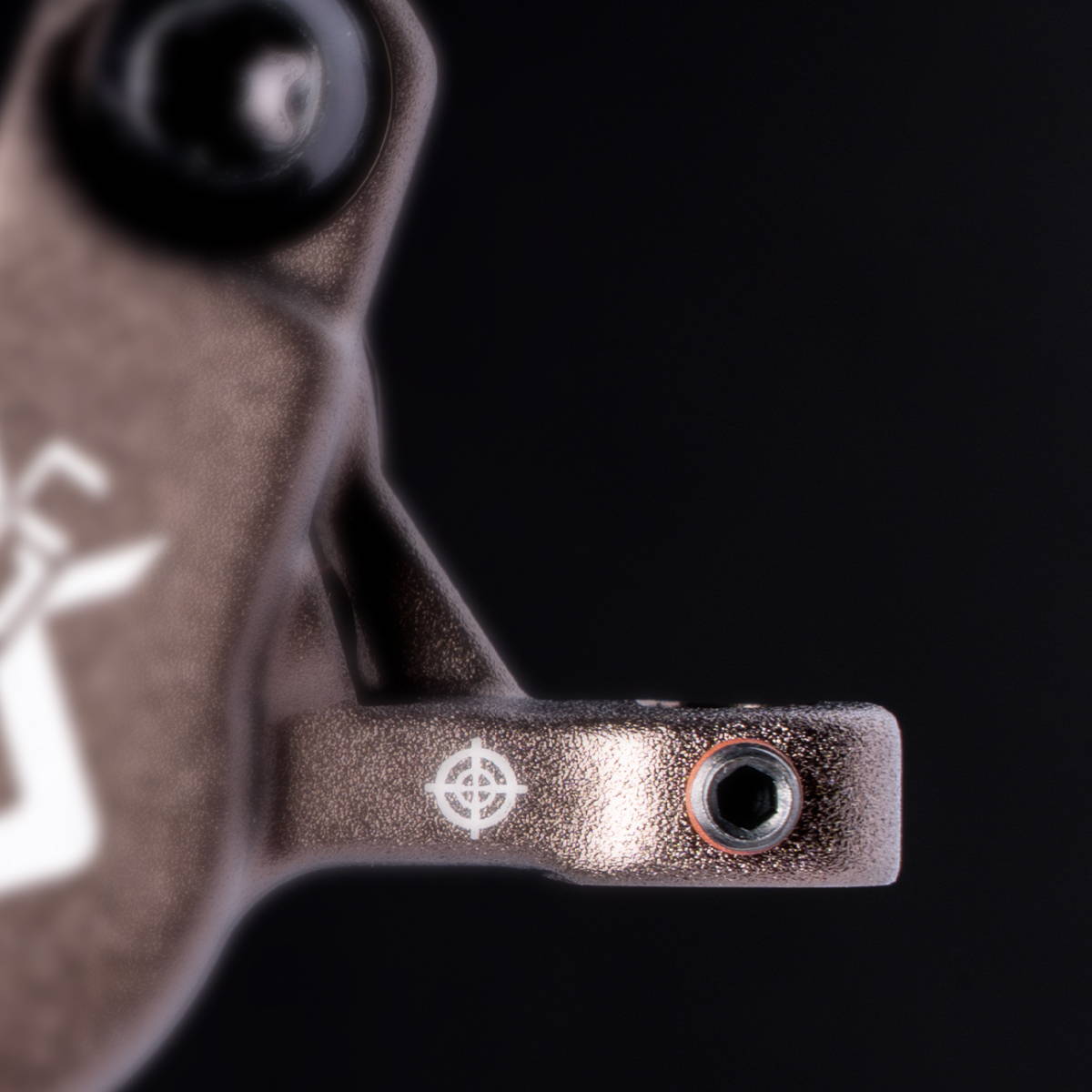 Crosshair Alignment System
Patented alignment screws allow for quick and accurate setup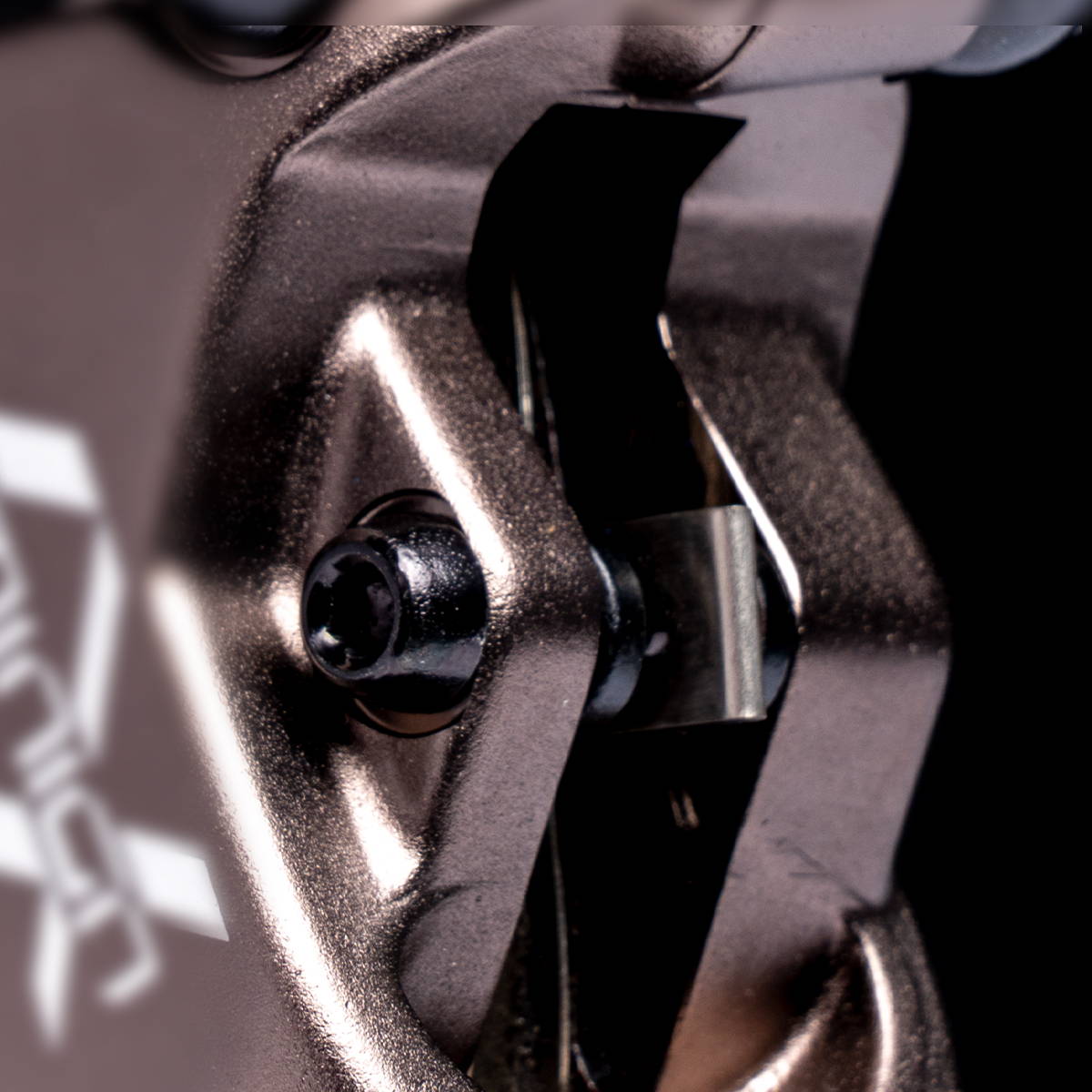 King Pin
Pad retention bolt adds strength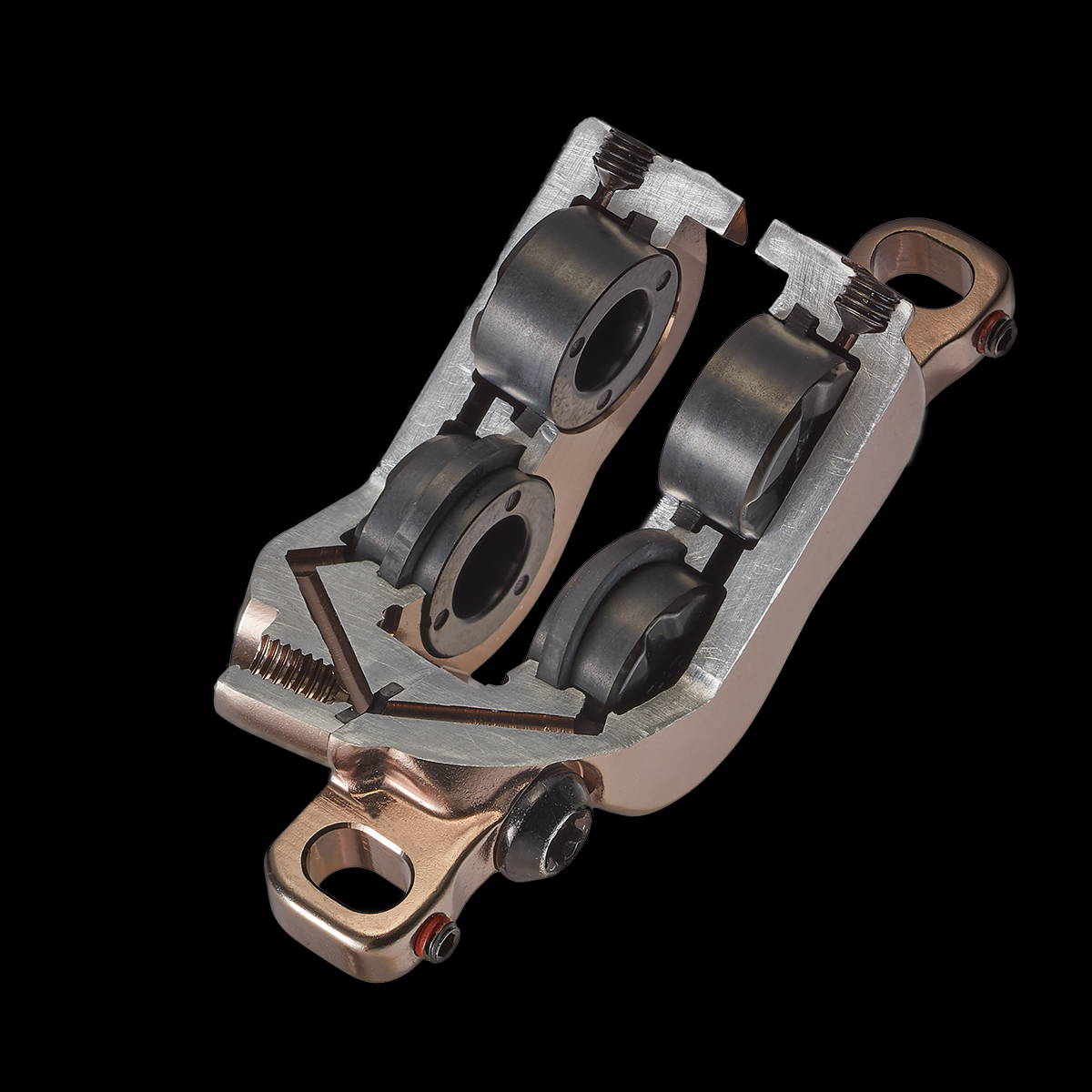 2-Stroke Dual Port Bleed System
Dual port bleed port system for maximum bleed integrity.
Best brakes in the business
I love these brakes, I just bought another set so that I have them on both my mountain bikes.
I am trying to love these
I have tried to reserve judgement on these brakes for the past year but it is becoming increasingly difficult. Bite point wanders all over the map based on temp and how much I am using them. I can adjust reach but it still changes mid ride.
I can't get a new set of pads to fit without rubbing from both sides. Originally I thought they were just bled wrong. But I just worked them over again and again(full bleed 3 steps) and the pistons will not stay back far enough to prevent constant rub.
Sure the dominions feel nice but my guide R's just work and work consistently. Can somebody tell me what the LBS and me don't understand about getting these set up properly?
A member of our Customer Care Team will be reaching out to you to help!
Truly excellent!
I am very happy and impressed with these brakes! I had the stroker brakes many years ago and they didn't meet expectations so I wasn't in a hurry to get another pair of Hayes brakes especially since the modern line up from Sram & Shimano are real solid. Although I do like to try products that are less mainstream or your normal oem spec when they look worthwhile. So when I needed new brakes I was looking primarily towards magura. A couple people I trust strongly suggested these brakes so I went with the Dominion A4 instead. I didn't dig into the nitty gritty details and internal tech that makes these brakes special - but I was hearing that these brakes felt great, had plenty of power, and were very reliable and predictable. All of that was true! So far these are on track to be my favorite brakes to date. I usually ride a code or saint, both of which are nice and reliable. On this bike, these brakes are replacing a pair of TRP G-spec 4 pistons. The dominions are quieter, prettier, much stronger, and the lever feel (both shape and pull action) is WAY better. This is a top notch brake and I'd recommend them to anyone looking for a powerful 4-piston brake. I'm always happy to find a product that is top notch from a niche brand - especially when you're not paying boutique price. These are a win!
The upgrade I put off for too long
Of all the brakes I've ridden (Hayes Purple DH and Hayes Stroker Ace, Shimano Saint and Deore, and SRAM Guides) these are *without a doubt* the best in every way, save for weight- but if you're buying these brakes, that probably isn't a top priority. After one ride on a friend's bike with A4s front and rear, I knew I needed them- I just waited way too long to press "buy."
I'm going to sound like a broken record, but there's a reason every review mentions the same things: the lever feel is incredibly light and smooth, the bite point is predictable and tight, modulation is unreal even under heavy load, the power is incredible, and they look amazing. Every minute detail has clearly been considered. I'm used to Shimano brake fade, so it has been revelatory to have total faith in my brakes regardless of how hard they've been working.
It took me a little while to figure out an effective bench bleeding procedure, but it's not a big deal to remove the caliper since the Crosshair alignment system makes precise re-installation easy. Compared to mineral oil I don't love dealing with DOT4/5.1, but I'll take it for all the reasons that cars use it, including how easy and cheap it is to buy.
If you like to ride fast and still be in some semblance of control, get these brakes. They will not disappoint.
Thanks Brooks! Be sure to share your ride with us on social media. #hayesbrakes #powerperfected #dominiona4 #hayesdominion #dominionbrakes
These brakes are so much better than SRAM
Switched from SRAM Code R to Dominion and I'm loving them. I tried all kinds of adjustments to the SRAM but it felt like I went from no brake to full brake right away, but with the Dominion brakes I can engage the brakes smoothly and hit the full spectrum of stopping power.
I heard the Pinkbike podcast call these brakes underrated -- very true! These brakes are awesome
There's nothing underrated about your review! We appreciate the positive feedback. #hayesbrakes #powerperfected #dominiona4 #hayesdominion #dominionbrakes