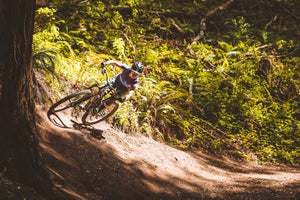 Emilie Siegnethaler
As a child, I loved being in the nature, especially on a bike. I raced cross-country for several years and had some great successes like an european junior title, But I always prefered to ride down the mountain rather than climbing it. When I finally discovered downhill mountain- biking, in 2008, I knew it was for me.
Downhill racing is a combination of pure fun, adrenaline, and high performance. In my opinion, that's exactly what sport should be about! After several years of racing, injuries, but also comebacks at the world's best level, I managed to establish myself as a constant podium contender for podium spots on the world cup circus. After 14 years racing at international level which resulted in 16 world cup podiums, 7 national titles and multiple podiums at Crankworx events, I decided to retire at the age of 35. It felt like the right time to say goodbye to racing at the highest level being still healthy and proud of my last season, finishing as still part of that top10 overall.

Now with my new jobs as an ambassador and social media manager, I embrace the challenges of this new lifestyle, to help represent and promote all my long-time sponsors, Reynolds being one of them and a few new additions, like Hayes brakes, which I'm really stoked on! I'm very proud and honored to be able to continue to ride my bike as much as I possibly can, bring more people on bikes and work together with amazing people towards a more inclusive, equitable and open version of this already great mountain biking community.